Story of New York Pizza House
When someone mentions about pizza, everyone knows it is one of the most popular foods from Italy. But if we talk about New York Style Pizza, probably only New Yorkers in the US know it differs from the original Italian style as it is always American's way of life that likes to create new thing and modify original recipe.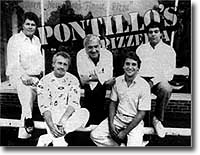 Not before 1947 or around 67 years ago, 2 Italian-American brothers, TONY and SAM of PONTILLO family started running their pizza restaurant in Batavia in western of New York State using American style pizza oven. Not many American knew about pizza at that time which allowed PONTILLO to develop pizza recipe and rapidly gained popularity among customers. It took them only 5-6 years later to set up a new branch in ROCHESTER and so on in many other towns. PONTILLO's family business expanded to cover as many as 25 branches in New York State alone.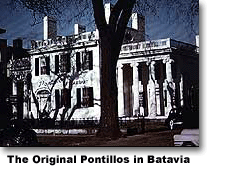 One of those branches, also named as PONTILLO, was originated in Cortland by RONALD CONSTANTINO. The reason RONALD used CONSTANTINO as his family name instead of PONTILLO because his mother was a sister of TONY and SAM and married with Ronald from CONSTANTINO. As such, RONALD also had pizza recipe which was PONTILLO Family's secret recipe.
Before getting such pizza recipe, RONALD had to bring himself to work in a pizza restaurant owned by one of his relatives for almost 10 years to develop his skill as professional pizza maker.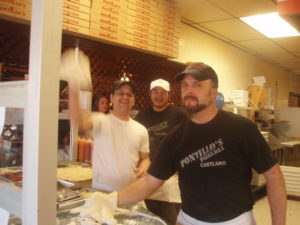 When RONALD married LINDA and had their children, RONALD asked for permission from his relative to set up his own pizza restaurant in Cortland locating opposite to the entrance to New York University, Cortland Campus, in 1982.There have been more than ten pizza restaurants in Cortland. Although many of them have already closed but RONALD's PONTILLO Pizzeria can always outlast them. A lot of his customers are students and professors from Cortland Campus of New York University, not to mention those from Cornell University and Syracuse University locating not far from the restaurant.
JEFFERY R.CONSTANTINO, the eldest son of the CONSTANTINO Family took over business from his father to run a pizza restaurant after he married Thai girl, Pimjai Jatuporn.
Jeff and Pimjai have developed their restaurant to gain more and more customers. Nowadays, PONTILLO PIZZERIA has become one of the best pizza restaurants in that locality. Both of them visit Thailand frequently and during their times in Thailand, Jeff always find it's not easy to find the right choice of restaurants especially those selling pizza. In fact none of them was the right one for him. This ended up with the idea "if you couldn't find one why not do it yourself". They first picked up Pattaya to settle their first branch as there are a lot of retired American living there. With help from Chokchai Jatuphon (Pimjai's younger brother) who resigned from hir career as an engineer to turn to pizza restaurant business and had a chance to learn how to make pizza and to run business by genuine American family at Jeff and Pimjai's Pontillo's Pizzeria.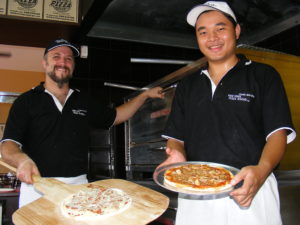 Since July 2010, Chokchai, Pimjai and Jeff jointly opened New York Pizza House, their first branch in Pattaya. "New York Pizza House" has always been most welcomed by distinguished American and other national customers living in Pattaya as well as visitors from all over the country. We are always proud when our customers give us a compliment of how they feel like they are in their hometown when enjoying our pizza. That made us feel more confident about our pizza of quality and we will stick to making "original" pizza inherited for almost 70 years. Pizza recipe that flew across the ocean from Italy to the US is now coming to Thailand to prove endless enjoyment of genuine and savory New York Style Pizza. Although some materials are difficult to find in Thailand but we never think of adapting our original taste and recipe. We choose to develop how we conduct our business which includes the importation of original Italian-American style pizza oven, several ingredients including traditional style Pepperoni directly from New York. All of these are just to make the best pizza in our own recipe for all pizza manias in Thailand.